Enzo Organic Stevia Extract Powder
Bring you the best alternative sweetener to sugar in the market. Available in 2 Sweetness Levels the New Easy Use Options and The Classic Intense Sweetness Option. Both of which has 0 calories with no aftertaste and tons of health benefits.
Easy Use Option 200g Beginner Sweetness Last 2+ Months
Stevia Expert 125g Intense Sweetness Last 3+ Months
Why you should give it a try
We've said this once and we're saying it again, it's 0 calories! This miracle sweetener doesn't need 30 minutes of P90x or T20s or any exercise to burn, this doesn't mean you can skip them it means your exercise can be focused onto burning body fat instead of sugar.

In addition to being 0 calories sweetener, we pride our stevia in its purity, bringing you the enjoy of sweetness without the poor after taste. And because stevia is so much sweeter than sugar you only need a pinch to sweeten your cup of joe.

Because this gives you the Bang for your Buck, don't be frighten by the price. We are bringing you the champagne of stevia so you know you're getting your money's worth. Our Easy Use Option will last you 2 months while the Expert Stevia Pack will last you 3+ months.
Why Choose the Best
Unlike the Big Brands like Equal, Now Foods or Swerve Enzo focuses on bringing you the best organic sweetener which doesn't only taste great but is good for your health.

We bring you organic powdered stevia extract the purest form on stevia extract, bringing you only the sweetness of stevia which is 30 times sweeter than sugar without the tangy and pungent taste of stevia.

Unlike the liquid form which is 90% water and fillers ingredients our stevia powder is 100% stevia with no additive, fillers or artificial ingredients. We use the same industrial grade stevia extract used in high end low-cal food products around the world.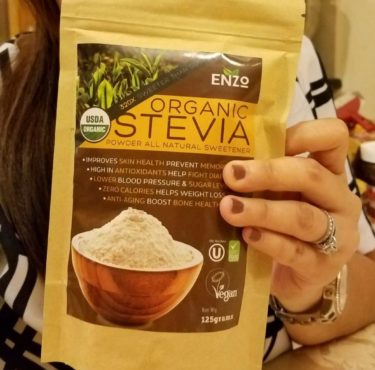 By Dieann63 on July 7, 2017
Money Saving! I have to use less than 1/4th TSs for a Gallon of Sweet Tea!
So far, I have used this in a Blueberry Muffin Recipe and it was FANTASTIC! Also in daily smoothies, Coffee, and Tea too. I have also made Popsicles and Pudding. The fact that I have to use so little means that a little money is going to go a long long way! Normally I was buying Truvia from the club store and that 400 packet box is like 19.99 and it did not last us very long here. So, great taste, NO aftertaste+++ Money saving Versatile.. you can use it for cooking, making drinks, any way you would like! If you use too much, it will be way over sweet! I made that mistake the first time I made Matcha Tea and I just added more water and Matcha and it evened out. SO, my advice to you if you put too much into your recipe.. stretch the recipe out by adding ingredients so you do not waste your ingredients. Just start off slow and add what you need.
By Amazon Customer on June 21, 2017
Five Stars
I really love this Stevia Powder, will save me alot money in the long run.
By Bobby on April 26, 2017
Really loving this!
Fantastic! Just a little an your in business. Taste Great! This bag alone is lasting, lasting, lasting. Update: Still lasting and very good 🙂
By John Benjamin Sciarra on April 11, 2017
Perfect sweetener for the health concious!
No after taste (or my taste buds are fried). Really, love this stuff!
By mother to 2 on January 29, 2017
I was searching for a better sugar free type alternative to sweet low
I was searching for a better sugar free type alternative to sweet low,equal,etc. I came upon this product and ordered it. I love it! You use so little of the product that it will last quite a long time
By Bobby on April 26, 2017
By Jim G on March 4, 2017
I just want to write this review to let people know, not only am I happy with the seller, but I am very pleased with their products!!!!! I have bought the powdered match tea, and just recently the stevia, which I love!!!!! I will continue to buy from this seller and I hope other people do too!!!! You won't be disappointed in the service or products.
By deborina on December 21, 2016
Love it!
Love this pure organic Stevia. It takes a wee bit to sweeten, much less than you would think, which took a bit of experimentation. No after taste and I know it's my healthiest option for a sweetener. Would highly recommend.
By RT on May 13, 2017
Five Stars
Great product. Pure Stevia goes much farther than others. Thanks.